Baseball Stadium Ballpark 3D Models
A baseball stadium or ballpark, is the place or venue where baseball games are held. Baseball stadiums have playing field and the surrounding structure that provide spectators a variety of seating locations and other services. The ballpark can sometimes be referred as the entire structure or just the baseball playing field or ball field.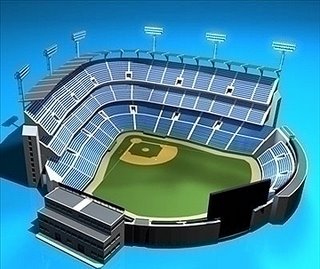 Baseball stadium 3d models are graphical representations of such structures. Each baseball stadium 3d model has a playing field and can include the surrounding structures such as the seating, roof, convenience shops, lavatories, parking, ticket stands, etc. Baseball 3d models come in a variety of widely use 3d modeling software formats including 3ds max maya lwo obj flt fbx xsi c4d dwg dfx lws stl for a variety of applications including mobile, 3d printing and augmented reality.
The 3d models can have different playing fields since ballparks for both amateur and professional baseball have own character when it comes to the playing field. The baseball regulations have specific standards for the diamond that is outlined by white lines. However, the rest of the field is open to the designer and hence the unique character for each baseball stadium playing field or ballfield. For amateur or little league the the ballpark refers to the playing field.
Baseball stadium 3d models are used in many industries most notably for baseball video games, baseball training and simulation, new or existing baseball stadium development, gear and memorabilia advertisements, and marketing or promotional materials.
Using a graphical representation, instead of the actual stadium, enables the graphical artist to quickly and relatively inexpensively incorporate baseball stadiums into the TV and Web advertisements, films, print proofs, video games, memorabilia, etc.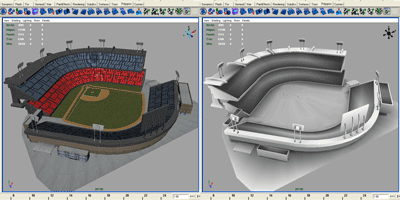 TYPES OF BALLPARKS 3D MODELS
There are several types of graphical 3d model representation of baseball stadium or ballpark. Below find some examples of baseball 3d models.
Classic Wooden Ballparks
These are the classic ballparks of the "golden age" of baseball. These were the original professional baseball stadiums and are made of wood, iron columns, and sometimes rebuilt with concrete. They had large green seats, large roofs, exposed steel, brick and stone. The spectators seats were mounted on wooden platforms. Wooden ballparks 3d models require the use of different types of wood textures. The wood textures are used during the rendering process to give the 3d model a realistic wooden look.
Multi-Purpose Stadium Ballparks
Multi purpose stadiums were built to host multiple sports and entertainment events including baseball, football, soccer, and other sports. They look like concrete donuts or cookie-cutters, tall and circular or square, and they are made mostly out of reinforced concrete. Graphical 3d model representation of multi-purpose stadiums will often include different fields for different sports and a center stage for other events. The 3d models often include the surround structures such as retractable roof and and seating.
Modern Ballparks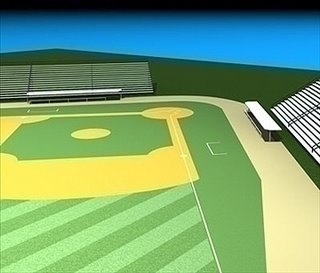 Baseball-only parks are built for baseball only, which gives them an initmate feel and makes them well suited for hosting large baseball games. They have seating most suited for baseball including cantilevered upper decks, seating of different colors, VIP sections, etc.
3D models of baseball seating are often customized to achieve the desired look and feel for the stadium. They are also strategically positioned throughout the stadium structure to maximize the baseball spectator experience.