Design a Suit of Armor
Polish your 3D skills by creating this amazing suit of armor that could be a perfect prop for a video game. Make the most of the tools ZBrush has to offer and see what you can do!
Just Enroll in the free course by Dídac Soto.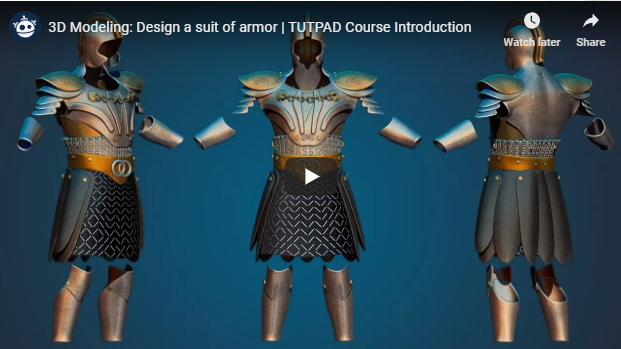 About this course
On this course, we'll create a suit of armor, using classical and medieval style components with help from some of the new tools the latest version of ZBrush has to offer. We'll show you the most efficient workflow, which is to sculpt the pieces one by one and then put together the whole suit of armor.
With this course, you'll learn about the software's new tools and you'll improve your skills and knowledge of the program.
What project are we going to develop?
We're going to create a suit of armor inspired by both classical, medieval and even fantasy elements using the tools available on ZBrush. When you've completed the course, you'll have an amazing armor that you can use for a character or as a prop, and that will definitely enrich your portfolio. We'll also explore some of the functions and tools of the latest version of ZBrush such as the Nanomesh and the IMM brushes.
You will learn
How to sculpt different parts of a suit of armor
How to optimize the pieces created
How to place all the components of the armor
How to add wear and tear to the pieces
how to add color and materials
How to use the Extract tool
About Polygroups and the Panel Loops
About IMM brushes
How to use the Nanomesh
How to create and use Alphas
Who's this course for? Requirements
This course is for anyone experienced in 3D modeling and who has a good base in the software. The course focuses on some of ZBrush's new tools and functions and the creation of a suit of armor that could be used as a prop.
To take the course, you need ZBrush installed and we'll also use Adobe Photoshop and Illustrator when we deal with some of the textures.