An Introduction To Spline Modeling
A spline is defined as a special function involving polynomials in the mathematics realm. It can also be used to describe an alternative way to figure interpolation problems, and is an easier less governed function than polynomial interpolation. For those not familiar (or interested) in mathematics, the term spline may be more familiar as it pertains to computer science.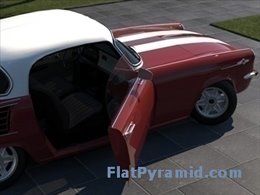 In this field, and subfields thereof, the term spline is frequently refers to as a parametric curve. The simplicity of their construction makes them a popular choice when designing digital models and their interactive curve design allows for easy manipulation. The word "spline" is adapted from the shipbuilding term that describes the flexible tools used by draftsmen and ship builders to easily draw accurate shapes. This simple concept has proven to be a reliable tool in the world of computer science.

Splines can be used in either one dimensional, or multi-dimensional applications, and are used in a wide variety of functions. They can be used to smooth dimension, or for the interpolation of these data dimensions. Smoothing splines aid with "cleaning up the rough edges" of 3D