Which Modeling Method Is Best?
Though there are many questions as to whether or not there is one way to create a 3D model as opposed to another, the answer lies within each person's applicable knowledge, preferred method of design, and preference to computer software. There are three main types of 3-D design that are used today, and are considered the most popular methods used by graphics design divisions in companies.
The first of these is referred to as "Polygonal modeling", this methods uses linearly connected vertexes to create polygonal mesh that form the object. The majority of 3D models today are created using this method, as it is quick, flexible, and easy for the computer to process data input. The only disadvantage of this form of 3d modeling is that all objects are made of tiny flat surfaces; even the curved shapes are approximated using flat surfaces.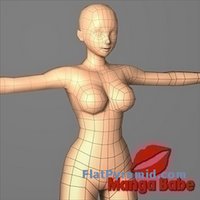 The second method of 3d modeling is called "NURBS" modeling. This type of modeling uses spline curves to create the appearance of life-like objects, and is put in place with the use of weighted control points. The most popular program that uses this form of design is called "Maya" and is well known commercial software. The surfaces created by NURBS are truly smooth, and though it is slightly more difficult than other methods, it creates a perfect system for organic 3d modeling.
Splines and Patches modeling is very similar to NURBS and is also dependant on curved lines to define shape. It is between NURBS and Polygonal in its ease of use, and utilizes modeling techniques that have similarities to both. All three of these 3d modeling methods have their advantages and disadvantages, and are dependent on the designer and their use for specific projects.