RealScan – 3D Scanner and Scan Service by Zeiss
At Hannover Messe, the trade fair for Smart Production, ZEISS will be presenting RealScan, its first-ever 3D scanner and 3D scan service used to create photorealistic 3D models.
From product presentation in the online shop to realistic representations in games and interactive training applications based on augmented reality, 3D technology is assuming an increasingly important role across all communication media and in our day-to-day lives.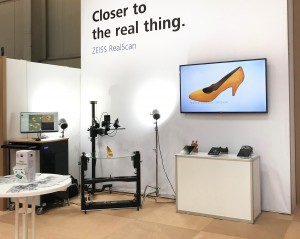 Capturing an object in 3D in a precise and photorealistic way is quite a challenge. ZEISS has developed its own, patented algorithm just to capture the spatial position of an object's surface points.
ZEISS is convinced that RealScan is far more than just a tool for use in retail and industry – it's also great for use in museums and scientific environments. Thanks to its high resolution and true-to-life depictions, the ZEISS RealScan is ideal for documentation purposes.
The ZEISS RealScan software guides the user through the scanning process. Right after the scan, the software reproduces the 3D model in the ZEISS RealScan cloud. At the end of the process, data will be available that can be used and edited in the standard .obj format.
ZEISS offers two versions of the RealScan, as well as the required hardware and software directly, as part of its rental service. The 3D models can then be created via the ZEISS RealScan cloud. The price of the scanned 3D model will vary depending on the object. Customers can also send the object to the ZEISS Scan Center for scanning.
Find the newest 3D models on FlatPyramid.
Sell your own 3D models – 3dartist.flatpyramid.com