The Utah Teapot – The First 3D Model
The Utah Teapot is an integral part of the 3D model history and creation. For this reason, we recognize it as one of the first 3D models. Did you know that the Utah Teapot has been present in a variety of animated films which incorporate 3D models? The teapot appears solid, convex, and cylindrical throughout the teapot.

It was created at the University of Utah for the modeling and graphic design program, and has moved its way to becoming a standard reference in the world of 3D models. At its time, it was thought to be a complex 3D model, for the technology available at that time, after all, it was in 1975.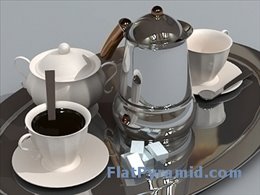 The cylindrical shape of the teapot meant easy translation from a rough sketch by the artist, Martin Newell, as an inspiration from his wife after she was having tea. Newell is a pioneer of the graphics program at the Utah, and sketched the teapot from eye, while sitting down to tea with his wife. After finishing the sketch, and edited the control points on the teapot. The saddle points, and the lighting used to create a shadow around the teapot, increase the illusion of the teapot being a real item.

Decades later, the teapot remained the inspiration for many 3D models, of different renditions and textures. Free versions of the teapot are available all over the internet, in the many different renditions. Although many free 3D models are available on the internet, the Utah teapot is available as one of the first models, and lead to the development of other household goods, and models.